Multi-Asset Portfolios - Fund Centre
*FUND CENTRE LAUNCHING IN SEPTEMBER 2018*
Until the launch of the Morningstar powered Fund Centre, the latest prices and daily and weekly price movements for the RL360 Multi-Asset Portfolio funds and RL360 Cash Funds can be viewed in the table at the bottom of this page. These funds are available to the following products:
Safe Combination Bond (GBP)
International Safe Combination Bond (GBP and USD)
Secure Investment Portfolio (GBP)
International Secure Investment Portfolio
With Bonus Bond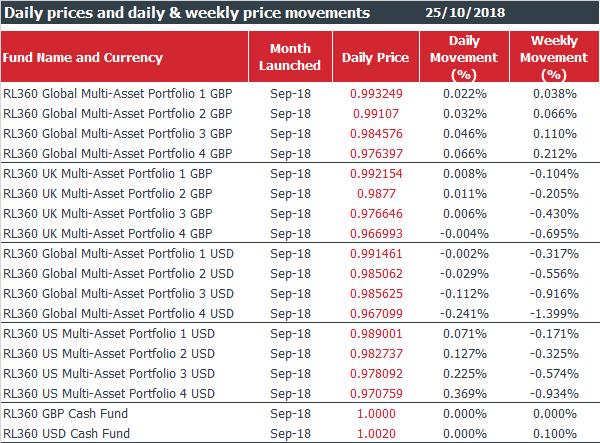 Source: RL360 Insurance Company Limited.
It is important to know that unit prices reflect the value of the underlying assets of the funds and so can go down as well as up. Past performance is not indicative of future performance. These figures have been prepared for information purposes only and are not an invitation to purchase an investment on the basis of information given, nor do they constitute investment advice. RL360 Insurance Company Limited is not responsible for, and will not compensate Policyholders in relation to, the performance of their underlying funds.