RL360 sponsored athletes are headed for the 2022 Commonwealth Games
RL360 sponsored athletes – Ollie Lockley for long-distance running and Matt Bostock for cycling – have been selected to represent the Isle of Man in the 2022 Commonwealth Games. Ollie will be competing in the Marathon event and Matt will ride in the Men's Scratch, Points and Road Races.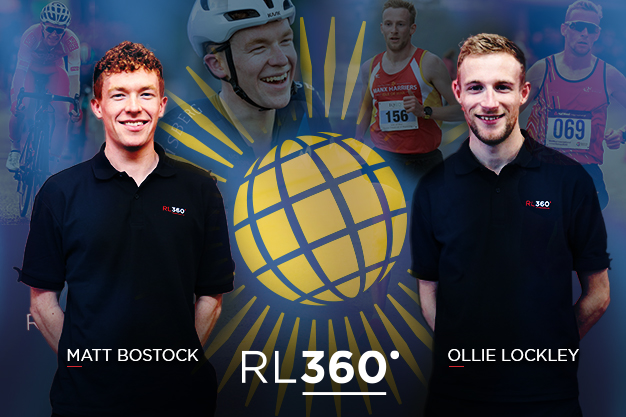 They form part of a 32-strong team of Manx athletes selected by the Island's Commonwealth Games Association.
The 2022 Commonwealth Games will take place in Birmingham between 28 July and 8 August.
The selection is particularly impressive considering that both athletes have made a comeback from injuries sustained at the start of the year, with Matt suffering a serious leg injury following a collision and Ollie a stress fracture in his left foot. Since then the pair have made incredible progress and have managed to work their way back to full fitness.
For Ollie and Matt, qualifying for the Commonwealth Games is a dream come true and the ultimate goal is to put in a great performance in July.
In his own words, Ollie said: 'For as long as I can remember I've wanted to represent the Isle of Man at the Commonwealth Games. It's one of the biggest multi-sport events in the world and is an opportunity to showcase what we have to offer. Being able to run for the Isle of Man on this stage means everything to me and I hope I can do everyone proud.'
Looking to the future, Ollie commented: 'I want to be competitive in international marathons and make more major championships. I believe I have the tools to run a good marathon and hopefully this will lead to more opportunities. I still have two goals in the short-term that I want to achieve and they are performing well at the Commonwealth Games, and attaining a Great Britain vest.'
Matt is likewise thrilled to have made it all the way to the Commonwealth Games. He said: 'Competing in the Commonwealth Games means everything to me. There aren't many opportunities to represent the Isle of Man in cycling and the Commonwealth Games is the pinnacle of which we can represent our country in sport. It is just an immense source of pride to know that you representing our island on the biggest stage.'
He added, 'My immediate plan is to focus on the Games and try to come home with a medal. After that, my focus will switch back to stepping up a division in the pro ranks to ride for a team that competes in the Tour de France. I've already managed to secure 5 podiums and 3 wins this year already, so I really feel like I'm on track to achieve both my goals for the future.'
Simon Barwell, Director of Marketing at International Financial Group Limited (IFGL) – which is the group that comprises RL360, Friends Provident International and Ardan International – congratulated the pair on their achievement. He stated: 'We've supported both Matt and Ollie since 2019 and to see both of them reach the Commonwealth Games is a phenomenal achievement, of which we're incredibly proud.'