Introduction
Access valuations, deal and switch online, research funds and keep up-to-date with all your clients plans in our supercharged Online Service Centre.
Introduction
Section navigation
Quick facts
Advisers & Plan owners
Pension beneficiary access
The Online Service Centre
As a busy financial adviser, always on the move, keeping in touch by mobile, laptop or tablet (or all 3!), having constant access to relevant and always up-to-date information is a necessity.
Thats why we launched our Online Services Centre ("OSC") to meet the needs and wants of advisers and clients in the 21st century. Supporting different levels of access, master users have full control over the information that their staff can view. Master users can set up new users (and delete them) and choose exactly what access rights each user has. The system is totally flexible and accommodates different business structures. And you can change and update the structure whenever, and however, you want. See our setting up page for more details.
The OSC has everything you need to monitor and maintain your clients plans, and also gives you advanced warning when something has changed or needs to be actioned. It allows you to produce summaries effortlessly for your clients (both for individual plans or for a group of plans chosen by you) and then sends it to you in the format of your choice.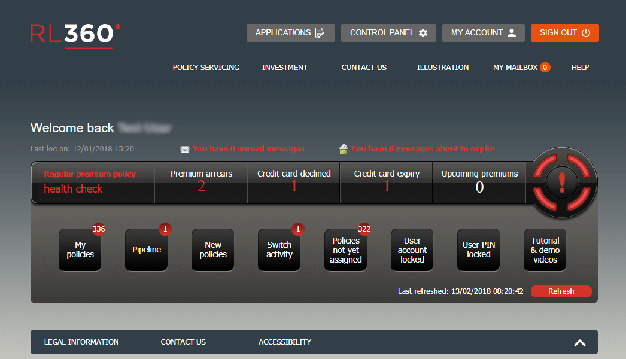 When you first log in to the OSC, the first thing you will see is a dashboard that gives you an instant summary of any outstanding activity on your clients plans (and your own account). So if a plan has slipped into arrears, a credit card is about to expire, or you want to see which plans you've submitted that are still in the pipeline - you'll see it all in an instant on your personalised dashboard.
Everything you need to know about all your RL360 clients and their plans is all available in the plan servicing pages. Our easy to use search function and product and plan status filters will help you find the plan (or plans) you wish to view. Once you have selected a plan to work with, you can carry out the following tasks:
View a detailed plan summary that shows current plan value, plan status, current holdings and payments paid, client/lives assured names and contact details
View full plan valuations both current and backdated. You can also prepare a valuation in PDF format to email to your client
View all transactions that have been carried out on the plan
Analyse all payments and withdrawals over the life of the plan
Check personal contact details for all plan owners and lives assured
If you want to produce valuation reports for some or all of your clients rather than just one? Then look no further than our helpful bulk plan servicing page, which allows you to create your own "groups" of plans and then request reports.
The reports will be emailed to you in moments, taking all the hassle out of monitoring plans and preparing numerous reports.
And whats more your clients can register too, enabling them to view valuations and plan information. It is even possible for corporate pension trustees to provide their underlying client with OSC access.
So if you have Terms of Business with us, and want to register for the OSC, read our setting up page to see how to best structure your access.