RL360 Superstock TT is a scorcher
Michael Dunlop lifts the trophy after taking the win in the RL360 Superstock TT race

The RL360 Superstock TT race took place in a sun-soaked Isle of Man on Monday 3 June.
The hard fought battle was won by Michael Dunlop on his MD Hunts Honda Fireblade – it was Dunlop's second win of the day and his third of the week.
Second place went to Gary Johnson, while John McGuinness took the third step on the podium.
The race saw Dunlop – son of 5-time TT winner Robert Dunlop and nephew of the greatest TT rider of all time, 26-time winner Joey Dunlop - set a class lap record of 131.220 mph and won by 16.577 seconds.
RL360 hosted a group of financial advisers from around the world during this year's TT, all of whom were at the Grandstand to see Dunlop lift the trophy after the exciting race.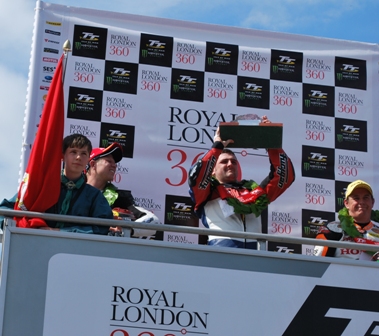 The Isle of Man TT Races run on the Mountain Course – more than 37 miles of public roads covering a seemingly never ending series of bends, bumps, jumps, stone walls, manhole covers and telegraph poles. Riders hit speeds of up to 200 mph, wowing the thousands of bike fans who flock to the Isle of Man for the spectacle.
RL360 has sponsored the Superstock race for the last 10 years and is the event's longest running sponsor.