Hashtag healthcare - it's trending
Following our annual fund review and due to popular demand we are pleased to give you access to healthcare, biotechnology and life science equity funds within our Oracle, Paragon, Quantum and LifePlan products for the first time.
Why so popular?
It is big business. People are spending more on personal care and investing in their heath. Cosmetic surgery is becoming ever more popular, laser eye treatments are commonplace, and there is burgeoning excitement within the wearable tech market as companies clamber to develop new ways of monitoring our health. Additionally, population growth and an aging demographic are driving the need to discover solutions for chronic illnesses and treatments for long term ailments.
What is a healthcare fund?
These funds typically invest in companies that specialise in the health care or medical industries with sector weightings likely to show investment in areas such as pharmaceuticals, cosmetics and medical products, companies providing healthcare and social services or companies in the chemicals trade.
What is a biotechnology fund?
Biotechnology companies operate in research, product development, production or distribution of medical supplies. These companies are likely to spend a significant percentage of revenue on research and development, an industry which is greatly affected by clinical trial data.
What is a life science fund?
The life sciences is the scientific study of living organisms such as microorganisms, plants, animals and human beings and are helpful in maintaining or improving the quality and standard of life. Companies in this category are likely to engage in research, development, production or distribution of products or services related to health and personal care, medicine or pharmaceuticals.
Our additions
We've hand selected the following funds for inclusion following their strong performance in the last 3 years.
Oracle, Paragon and Quantum only
Janus Global Life Sciences (available in USD, AUD (hedged) & EUR (hedged))
JPM Global Healthcare (available in EUR and USD)
UBS (Lux) Equity Fund Biotech (available in USD)
Oracle, Paragon, Quantum and LifePlan
UBS (Lux) Equity Fund Health Care (available in USD)
These funds all sit within in the 'Specialist' sector in the product Investment Guides.
Cumulative performance of the USD share classes over 3 years to period ending 31/10/2014. Source: FE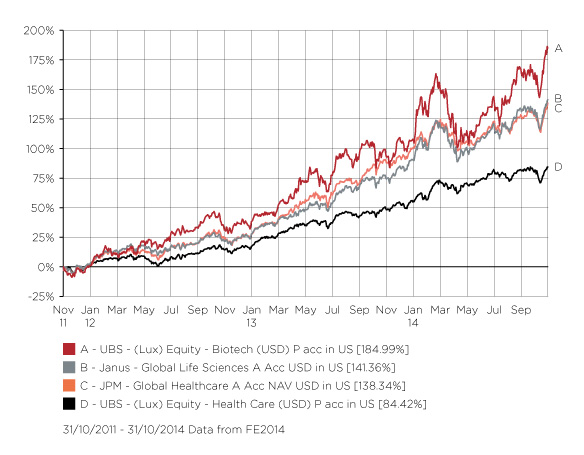 Please note that past performance may not be repeated, therefore it must not be used as a guide to future performance. These figures have been supplied for information purposes only and are not an invitation to purchase an investment on the basis of information given, nor do they constitute investment advice. The price of units in the investment funds reflect the value of the underlying assets of the funds and can go down as well as up. Where a fund invests in overseas securities, the unit price may also rise and fall purely on account of exchange rate fluctuations. RL360 Insurance Company Limited is not responsible for, and will not compensate Policyholders in relation to, the performance of their underlying funds.
22 new fund links for Oracle, Paragon and Quantum
This is just one of a number of new funds that we have introduced into our fund range. Find out about the new funds here. View our updated investment guides in the panel (right).