Quantum enhanced with Capital Redemption version plus Segmentation
Our flagship regular premium savings policy, Quantum, has been enhanced for 2014 with the addition of a capital redemption variant, as well as segmentation. This means there are now even more reasons to consider Quantum.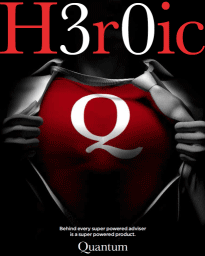 Quick links to new literature
Go to
Heroes never rest
Whilst others have been feasting over the Christmas period, our hero has been hard at work sculpting his physique for 2014.
Looking buff and more toned than ever, Quantum is ready to be unleashed upon the market. Empowering advisers with even more options and features to help their clients save for the future.
What's new?
Capital Redemption From 3 February 2014, you will now be able to choose a capital redemption version of Quantum for your clients. The capital redemption version has no lives assured, matures after 99 years and then pays out the fund value plus a guaranteed GBP100 (or currency equivalent). As the bond doesn't have to end on someones death it can be useful in tax planning structures for heirs, corporates and executors.
Naturally the life assurance version remains available, all you have to remember is that you can't switch between the two types once a policy has been issued.
Segmentation (sub-policies)
Quantum can now be issued as 100 sub-polices - the new default. If that isn't suitable for your client, you can still keep things simple by having their Quantum issued as a single policy if required. Just make sure you tell us this in the application form, otherwise we'll issue it as 100 sub-policies.
How do I quote on the new basis?
We have updated the Quantum illustration system, so that you can now select a capital redemption or life assurance version. Please use the link above to download the latest version, alternatively if you are using our Online Service Centre you will see our online illustrations have already been updated.
With regard to segmentation, this isn't referenced within the illustration, so your client simply needs to confirm the 1 or 100 sub-policies within the appropriate section of the application form.
Anything else to be aware of?
Yes. In line with currency fluctuations we have updated the minimum premiums associated with the product. This means that our USD and JPY minimum premiums have increased whilst EUR minimums have decreased.
| Currency | From | To |
| --- | --- | --- |
| EUR | 250 per month | 240 per month |
| USD | 300 per month | 320 per month |
| JPY | 25,000 per month | 30,000 per month |
The currency factor changes also impact charges and withdrawals in the respective currencies. Please download the latest literature above for full details.
What about business I have in the pipeline already?
We will continue to issue business on the old basis until the end of March 2014, to take account of any applications you may have in the pipeline already.
Applications submitted going forward should be sent in on the new application form, above, and supported with an illustration from the updated system.