Leon takes the reins in Latin America for RL360
RL360 has appointed a new key member of staff as the company forges ahead with plans to expand into the Latin American market.

Leon Sears has taken on the role of Regional Sales Manager, Latin America and will get to work immediately on shaping RL360's future in the region. Leon has a solid foundation of contacts he can call upon, having worked on Latin American accounts for the major part of his career.
"It's a really exciting time for me personally and for the company," said Leon. "I believe there's a lot of potential in Latin America. It is still a young market compared with various others around the world but it's a very profitable, fruitful market.
"I think we are getting to the stage where the economies of the various countries are doing very well and outperforming developed markets. It's time for people to stand up and take notice."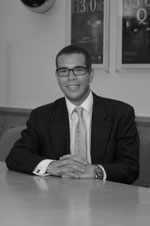 Leon will be based in the Isle of Man but there will be a lot of travel to the region. The next step could be relocation.
He said: "It will be about embedding ourselves in the first year - we want to make sure we set ourselves up there for the long term."
International Sales Director Simon Pack said: "I am delighted to have Leon on board. He is highly regarded in the Latin American market and will bring a host of new contacts and fresh ideas to our expanding sales team."